Pressure Washer Module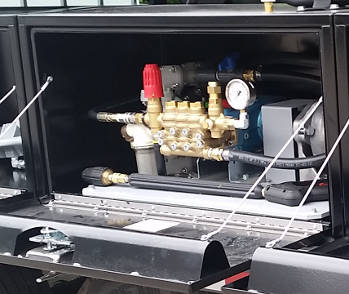 The Mainstay® Hydraulically Powered Pressure Washer delivers 5,000 pounds per square inch (psi) at 4.5 gallons per minute (GPM). This heavy duty pressure washer is capable of effectively cleaning and preparing surfaces for rehabilitation, and it is also useful for cleaning application equipment.
Features & Benefits:
Maximum flow and pressure: 4.5 GPM at 5,000 psi
Rugged hydraulically powered unit—no gasoline engine to service and fuel
Features Cat® 70 series triplex ceramic plunger pump with stainless steel valves
Includes a pressure regulator, pressure gauge, bypass hose, and an on/off hydraulic valve
Includes 50 feet of 3/8" hose, shutoff gun, and appropriately sized turbo (rotating) nozzle
Non-marking hose with trigger gun
Heavy duty wand with quick change tips
Includes mounting plate/brackets, drive couplings, protective covers, and associated water and hydraulic plumbing
Optional Accessories:
Pressure washing wand
Fixed and turbo nozzles
Hose reel
Mainstay Dual Turbo Nozzle Centrifugal Cleaning Device

The pressure washer can also be used to power the Mainstay Dual Turbo Nozzle Centrifugal Cleaning Device. This device is convenient for the initial cleaning of manholes and lift stations. It allows personnel to perform a majority of the surface preparation work without entering the manhole. Upon completion of preliminary surface preparation, personnel enter the structure to finish the operation.