Mainstay® Hydraulically Powered Mortar Mixer Pump
The Mainstay Hydraulically Powered Mortar Mixer Pump is a versatile and efficient machine that will mix, dump, and pump heavy bodied restoration mortars. It consists of a hydraulically powered 7 cubic foot horizontal shaft and a reversible 2L6 rotor/stator pump. Controls for the mixer, pump, and dump functions are located directly on the unit.
Features and Benefits:
Hydraulic power for the mixer and rotor/stator pump provides exceptional torque for mixing and pumping heavy bodied mortars and provides long life with low maintenance.
Ergonomic design puts the top of the mixer at the operator's waist level. The operator can perform the job with less strain and effort.
Hydraulic cylinders lift the entire mixer unit to dump the contents of the mixer into the pump hopper with essentially no effort on the part of the operator.
Control valves are located directly on the unit for easy access and operation. The operator has full view of all machine functions while using the controls.
Both the mixer and pump are reversible, and both the mixer and pump are equipped with variable speed controls.
The entire unit is powder coated a medium grey for easy cleaning and maintenance.
Pump Specifications:
Maximum output: 1.5 cubic feet per minute (CFM), depending on material consistency
Maximum pumping distance: 150 feet vertical; 250 feet horizontal, depending on material consistency
Maximum pressure: 350 pounds per square inch (psi)
Volume control: variable
Pump direction control: reversible
Mixer Specifications:
Mixer drum size: 7 cubic feet (practical maximum batch size is approximately 3.5 cubic feet)
Reversible mixing blades
Variable speed hydraulic drive
Variable speed hydraulic pump (both directions)
Powder coating allows easier cleaning of the equipment
Mainstay PortaMortar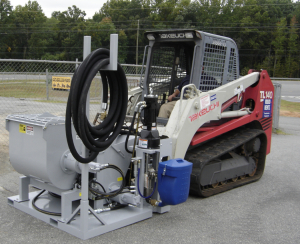 The Mainstay PortaMortar allows the mortar mixer pump to be used in conjunction with equipment such as a medium to large skid steer loader. In this case, the mixer pump is powered by the loader's engine and hydraulics. This combination of equipment allows contractors to apply materials in difficult to access areas.
Optional Compressor Specifications:
Air output: 24 CFM
Power source: hydraulically powered
Optional Airless Spray Pump Specifications:
Up to 5,000 psi of atomization pressure
Removable material hopper
Requires no external air source
NOTE: The mixer pump unit requires a separate 3,000 psi/12 gallons per minute hydraulic power supply, which is sold separately. The Mainstay PortaMortar requires a minimum 1,800 pound capacity skid steer loader.