Graco® Xtreme® Airless Sprayers
Graco Xtreme Airless Sprayers provide an economical and efficient way to apply 100% solids epoxy coatings with relatively long pot life. Madewell® Products Corporation can provide custom stands and hoppers for these units. Units are available with conventional air motors, or Madewell can provide hydraulically powered units if a portable air source is not available or desired.
Features & Benefits:
Graco airless pumps provide the high pressures required to apply heavy bodied, 100% solids epoxy coatings.
These pumps are available in a variety of configurations and can be powered hydraulically or with compressed air.
Cart-mounted pumps are the most common configuration and are highly maneuverable in tight spaces. Because they are not physically attached to a truck or trailer, they can be easily moved from one platform to another.
Custom hinge-mounted pumps take up relatively little space on the platform and fold down for use.This feature keeps spilled paint and solvents off the truck or trailer. This configuration is theft resistant and ensures that the pump is always available when needed.
Hydraulic power is the answer when compressed air is either not available or inconvenient. Hydraulically powered airless pumps make little noise and develop reasonably high pressures (up to 5,000 pounds per square inch, or psi). These pumps are most often used in conjunction with the Mainstay® PortaMortar, which is usually powered by a skid steer Bobcat® style loader.
Airless Sprayer Specifications:
Air powered pumps require an X60 configuration or higher.
Hydraulic pumps are fixed at 5,000 psi.
For more information on specifications regarding Graco products, please visit www.graco.com.
<p\>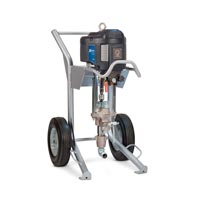 Conventional cart-mounted Xtreme airless sprayer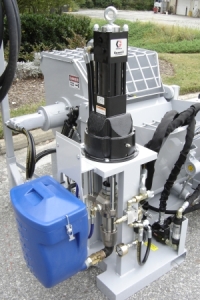 Custom built hydraulically powered airless pump
Custom hinge-mounted Xtreme airless pump
Mainstay Coating Spinner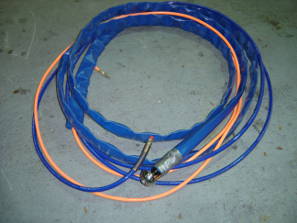 The Mainstay Centrifugal Coating Spinner is a convenient tool to use when applying high build, 100% solids epoxy coatings to the interior of round vertical structures such as manholes and lift stations. This unit features two hoses: one hose carries paint to the spinning head; the other hose provides compressed air to power the air motor. The air motor, paint line, and air line are fitted inside a canvas jacket, which serves to duct the air motor exhaust out of the hole being lined. NOTE: The exhaust air contains traces of lubrication oil which may interfere with coating adhesion.