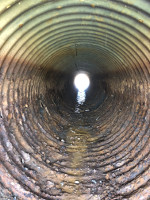 Mainstay® GeoSpin® is the rehab industry's cutting edge geopolymer repair mortar. Centrifugally applied at a typical thickness of one inch, this high strength, eco-friendly geopolymer mortar repairs drainage pipes that suffer from corrosion damage.
Product Detail Sheet:
Mainstay GeoSpin Geopolymer Repair Mortar (142 KB)
Recommended For:
Corrugated metal pipe (CMP)
Concrete pipe
Stormwater drainage pipe
Steel and concrete structures experiencing mild corrosion
Advantages of Mainstay GeoSpin Geopolymer Repair Mortar
Mainstay GeoSpin Geopolymer Repair Mortar provides numerous advantages over other portland cement based mortars and restoration techniques:
It is a highly sustainable and environmentally friendly product. Composed, in part, of recycled materials, it boasts a low carbon footprint and a reduction in greenhouse gas emissions.
Mainstay GeoSpin has improved corrosion resistance properties that protect against further deterioration of the drainage pipe or culvert.
This geopolymer mortar cures up to 10,000 psi compressive strength, increasing structural integrity and essentially creating a pipe within a pipe, thus providing a low cost alternative to open-cut pipe replacement.
Mainstay GeoSpin stops groundwater infiltration, seals leaks, and resists hydrostatic pressure. It can be applied up to five inches to corroded pipes that have rusted through and expose the surrounding soil.